The Yucca Mesa Improvement Association is a membership driven 501c3 not funded by the state, county, or city. We depend on annual membership dues to keep the lights on, the A/C that cools us, the propane that warms us, and general property maintenance and insurance.
We have big plans in 2023 to provide a monthly chance to meet and mingle with new and old neighbors on the mesa. Food trucks, marshmallow roasts, star gazing parties, holiday parties, and so much more.
But we need YOUR help to do that! Consider becoming a paying member of the Yucca Mesa Improvement Association. With membership not only will you be financially helping, but you'll get a voting voice in our organization each month. Not to mention this cool membership sticker to show off!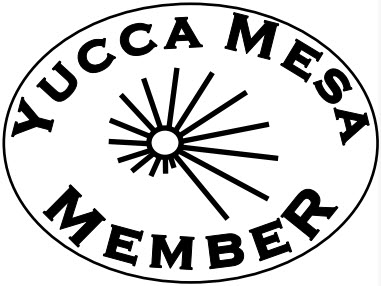 2023 Membership Prices
$30 per household
$60 per business/organization
Print and mail in this application with a check payable to YMIA. Or bring cash or credit card to the Reboot Rally on December 10th. New ways to continue membership are coming in 2023.